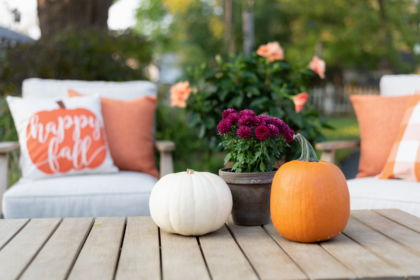 Many of us look to cooler temps to snuggle up indoors, but many more of us cling to our patios for dear life. Luckily the backyard need not fall dormant simply because the hydrangeas are. As summer wanes, read on for fall patio inspiration to extend your al fresco enjoyment well into your first overnight freeze.
1. Keep out the yuck.
While we think of temperature as the primary outdoor inhibitor, dampness is actually the  bigger deterrent. Precipitation graces us 1/3 of the year, which means the other 2/3 is spent drying out. Fall is particularly challenging as wet weather meets endless leaves, without a big influx of heat to help jump start evaporation.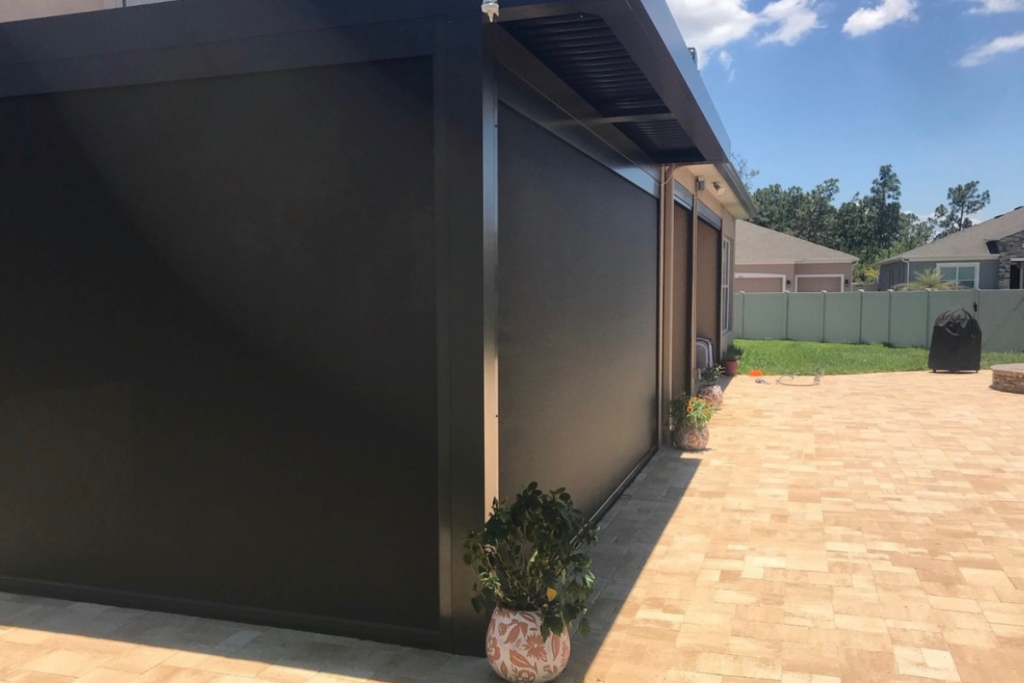 To stay dry and fend off debris, a gazebo protects furnishings while adding charm and purpose to an outdoor space. From under a sail cloth ceiling, watch as the squirrels forage, or beneath a custom DekTex pergola with retractable slats, track the honking geese migrating south. Opt for quick-dry and reversible cushions that need only be flipped upside down after a shower has passed, for cozy seating without seeping moisture. 

2. Fire it up.
Now that you're safe from mildew, let's turn up the heat. Fall seems to land overnight in these parts, with a 75 and sunny day immediately preceding our first frost. Be ready for it the old fashioned way, by throwing a log on a crackling firepit, or better yet, into a custom outdoor fireplace. Gas lines can be piped in for ease of use and quicker operation, and electric portable or wall-mounted outdoor heaters, and powered floor mats radiate away while you cuddle under the stars. To trap the warmth, deck out your deck's awning or pergola with outdoor curtains, or built-in motorized or manual wind screens for a living room feel tucked nicely into nature. 
3. Install fun.
Football's kick-off leads to baseball's post-season, all of which is going to require somewhere comfortable to sit. Position plush outdoor seating near an outdoor television, which can be secured on mounting brackets against your house, or under any outdoor structure. A backyard kitchen keep the party snacks flowing and fuels your Oktoberfest revelry without the constant open and close of a patio door. All weather rugs and snuggly blankets are a cue to crank up your favorite seasonal feel-good movies, or even better, a horror classic that will keep you up at night. And when all else fails, you can't lose with a glass of wine and seating perfectly situated to observe the changing leaves and the harvest moon rise. Bid adieu to mosquitos, and welcome back to spooky owls. 
Whatever your method, create an outdoor paradise with four seasons of beauty and ample use, no matter the weather. Reach out today to get started.