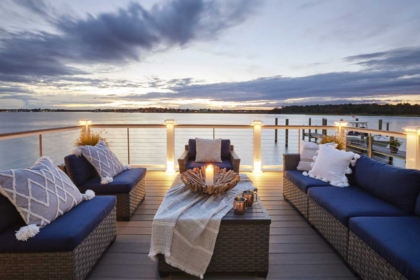 They aren't just required by law vis a vis just about every elevated deck structure for the general health and safety of your family. No, sir or ma'am, railings are also fun. I can feel your skepticism, so stay with me here. Not only do railings significantly lessen the chances of a life altering fall, they also add thoughtful design and supplementary functionality to your outdoor space.
Defining Your Deck
By design, railings create a clear border for your space, delineating your deck from your garden or lawn expanse, thus creating a separate room within your backyard. Even lower height decks benefit from railings in that they result in a more unified and finished look, for a cozier and more defined outcome. 
With the right design elements that take into account the architecture of the home or business, decking and their railings flow nicely off the primary structure. Various materials, discussed below, allow for matching or coordinating tones to the home, with complementary construction to make the deck appear intentional and in harmony with the family living within it. 
You may instead opt for a bolder statement with railings and decking details. Specialty features like gently curved railings running smoothly along a rounded deck or spiral staircase, creative infill featuring unique geometric construction, or opting for railing colors that contrast with the house, rather than blend seamlessly with the siding, give an outdoor space its own sparkling identity.
Wire in deck post cap lights for the firefly hours of patio enjoyment, as well as step riser lights, or LED illumination tucked stealthy right into the railing itself. Keep the party going with cocktail rails, a wider design with plenty of room upon which to rest a frosty beer stein, serving tray, or decorative elements like plants and garden art. 
A Matter of Materials
Choosing the railing material that makes the most sense to you boils down to weighing the pros and cons to each of your options.
Metal – Aluminum, Steel, Wrought Iron
Hail this rail: 
This style features virtually unlimited design options, can be installed quickly, while also offering durability and low maintenance.
Rail fail:  While the general structure of your metal rail is comparatively indestructible, minor surface damage is a breeding ground for rust, a complex fix down the road.
Composite and PVC
Hail this rail: 
Often made from recycled plastics, composite offers super durability, without losing the warm appearance of traditional wood. Unlike wood, composite and PVC won't warp, crack, or split in the elements, and just about all color and customization can be achieved.
Rail fail: Composite in particular is on the higher end of the price range, and darker toned rails can fade over time.
Treated Wood
Hail this rail: 
Wood craftsmanship is undeniably inviting and traditional in appearance, and initial material cost is relatively low.
Rail fail: Wood railing requires the most upkeep over the years, since porous wood can degrade after ongoing exposure to moisture. Additionally, outdoor wiring is more difficult to conceal, adding labor cost to construction. And splinters of course.
But Wait, There's More
Railings don't only consist of the surface you lean upon while gazing at sunsets. Beneath that is what's known as Infill, the area between the top and bottom rail or decking, and an  opportunity for your home's character to shine through. Stainless Steel Cable Rail is a modern and industrial look, but offers safety that uniquely allows your stunning view beyond exposed. Tempered Glass infill similarly does its job without obscuring its backdrop, and can be a softer look to match homes with a more quaint and pastoral appearance, all while being a suitable wind and rain barrier.
Wood, metal, and composite infill can be designed as simply as spindles in a coordinating shape and color, or as detailed as filigree, botanical themed cutouts, or custom designs that reflect your interests or area attractions. Whereas railings themselves can be overlooked as a purely functional deck feature, the infill is where the soul and personality of your yard can be expressed. It's also where you'll receive the most conversation and commentary from guests, so make it count.
Let's talk today about how we can truly customize your space and bring your deck to life.