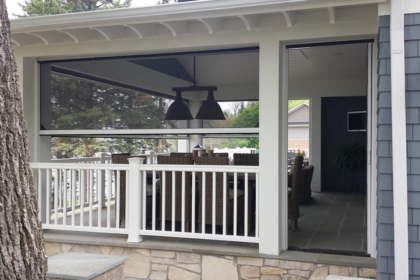 Let's talk neighbors. I'll keep my voice down so they don't hear us, don't worry. Because sure, they're great when you need to borrow a socket wrench, but sometimes you don't need every firepit chit chat or two-piece suntan session observed by ol' Randy next door. We have solutions for you, and privacy can be yours no matter how high powered your neighbor's binoculars.
What exactly is a Privacy Screen?
It's important to note a Screen is different from a fence. A fence might not be appropriate in every situation, perhaps because of HOA guidelines, aesthetic reasons, or because you don't feel you need a true boundary with complete opacity. A Privacy Screen allows for portions of your yard to be concealed without the harsh look of a border that can result from fencing
How would I benefit from a Privacy Screen?
Simply put, the aim is to create a soft visual and sound barrier for your conversation and general relaxation, away from onlookers. A Privacy Screen lends so much more utility however, blocking your visibility of area eyesores, such as compost piles, garbage bins, above ground pools and various home maintenance doodads. Create outdoor rooms within your yard, enclosing a poolside outdoor shower, or cordoning off a kitchen and dining space.  Privacy Screens add to the décor and go a long way toward limiting sun and wind exposure, which can mean the difference between a charcuterie platter and a charcuterie splatter under breezy conditions. 
What are my options?
Now for the fun part. Gone are the days of vinyl slats in a chain-link fence, updated for this century with chic metal-craft designs from Hideaway Screens. Echo your garden's tropical vibe with the Maui Screen, or a zen garden with the River Rock Screen. Using subtle laser-cut perforations, Hideaway Screens allow for just enough transparency so that you never miss out on golden hour during happy hour. Include planter add-ons for even more customization, or seat a corresponding gate between two panels for added privacy and seamless design. 
For sunroom doors and awning perimeters, our expert partner steps in with Midwest Screens, and Phantom Screens. Motorized shades are available in multiple colors and opacities to meet your desired privacy level and barrier from the elements. Your wide open French doors are no longer an invitation to mosquitos, with the supplement of a retractable screen for doorways as wide as 24 feet. Whether they roll down or slide open, both disappear into the door frame to maintain the appeal of your patio.
Other attractive ideas include mounting deck boards horizontally, for a clean, continuous flow of materials, and a relaxed feel. Pergolas add additional protection, and a lush green hedge, or vine covered trellis, blend into the scenery while blocking noise and neighbors.  
Contact your friends at DekTex today to talk through your vision and deck out your deck today.