A deck is an outdoor extension of your house that can greatly enrich your enjoyment of your home for many years to come. In order for you to get the most out of your deck, however, it needs to be designed to accommodate the way you wish to use it. Here are six helpful tips to help you design the deck of your dreams.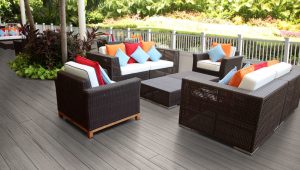 1. Think About Your Lifestyle
Think about how you and your family will use your deck. Do you often host large gatherings? Or do you prefer quiet evenings at home? Consider your schedule, your comfortable routines, likes and dislikes, and let them guide you to design a deck that meets your every need, and can serve as a carefree support system for your life.   
2. Identify Your Style
Your deck is going to be an extension of your home, not just functionally but aesthetically, too. While your deck is a new addition to the original footprint of your home, the two together should ideally feel like a seamless, unified whole. To achieve that, work with your contractor to look for design opportunities to extend the style of your home into your new outdoor space. Use matching and/or complimentary colors. Different architectural traditions have their own singular characteristics, so look for ways for your deck to echo the interior style of your home as well as the demands of your lifestyle  
For additional details on matching your deck style to your home and lifestyle – Contact us DekTex 
3. Go With the Flow 
Ideally, you want traffic to move smoothly through your yard so no one outdoor activity interferes with any other. Your new deck is going to take a chunk of space out of your existing yard, and that could reduce the amount of space that can be given over to other activities. Take this into account, to ensure your new deck harmonizes well with those other activities your family enjoys.  
4. Invest in High-Quality Materials
Choosing a building material is perhaps the most important decision you will make when designing your deck. While the price is an important consideration, it shouldn't be the only one. If you choose your material wisely, you're going to have your deck for many years to come, so it's best to take the long view.   
While wood is generally less expensive than capped composite or PVC products, wood decks can be far more trouble than they're worth in the long run. Wood requires regular maintenance to try to preserve its appearance and to help guard against rot, mold, warping, insect infestation, and other forms of deterioration that can compromise its safety and stability. That ongoing care can be both labor-intensive and costly. Even when diligently maintained, a wood deck will eventually rot and require replacement much faster than decks made from more modern materials. In fact, total costs  for wood decks over 10 years can be so significant as to erase whatever cost advantage they might have had at the construction phase of your deck.  
In stark contrast to wood, capped composite and PVC materials are technologically engineered to be remarkably strong, stable, durable, stain-resistant, fade-resistant, and are virtually maintenance-free. As the old saying goes, you get what you pay for. Investing in capped composite or PVC materials will help ensure that your deck will always be a reliable blissful source of rest and relaxation—and not a lifetime commitment to never-ending maintenance chores. 
5. Choose Your Deck's Location
While many enjoy a deck that functions as an uninterrupted extension of their home, this is by no means required. If you have a spacious yard, you may prefer to build a stand-alone deck elsewhere on your property such as in a quiet corner of your lot or in the heart of a garden. Putting a bit of distance between your home and your deck can also allow different family members the space to pursue rest and relaxation in their own ways without stepping on each other's toes.   
6. Start Designing
TimberTech's  Deck Designer  app is designed to help you bring your vision to life in glorious 3D right from the comfort of your desktop, laptop, or tablet.
Don't know where to begin? Visit our Photo Gallery to see inspiring images of finished decks to help get your creative juices flowing.
Once your deck design is complete, just show us the list of TimberTech materials at your DekTex Estimate, where they'll help you bring your unique vision to life.