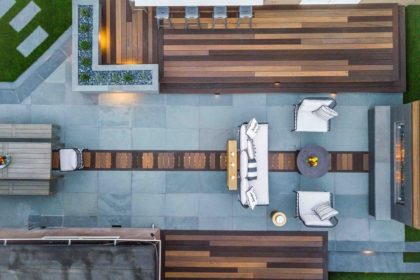 Incredible outdoor living space is about more than just the right decking materials. A backyard escape should also tell a story through design — and invite you to become lost in the narrative. To get your creative juices flowing, DekTex has together four fresh deck design ideas. Keep reading to get inspired and learn how to transform your outdoor living space from ordinary to oasis..
Deck Design Ideas: Tri-Color Decking
What Defines This Look?
You guessed it: three different deck board colors. More meaningfully, tri-color decking uses light, medium, and darker-hued boards for a seriously creative outdoor living. The dynamic deck pictured above was designed by Matt Daly, founder of California's Water & Earth Landscape Design, using three hues from our TimberTech® PRO® Legacy Collection. This look:
Starts with an overarching color family and uses three underlying hues for the board colors.
Echoes the natural, earthy hues of the surrounding landscape.
Is inspired by post-1920s modernism yet feels wholly of-the-moment in 2020.
What Are the Benefits?
A Deck as Unique as You Are: Daly knew that the only sure way to create a beautiful, varied deck that would retain its color and individuality over time was to go with a composite deck material. He selected three warm, earthy hues in our TimberTech PRO Legacy collection — decking made from a premium capped composite that blends beauty with technology for the ultimate low-maintenance deck. Each of the hues complement and accentuate the other two, making for an outdoor living space full of personality.
An Inviting Interplay of Tones: Applying the tri-colored deck boards in a random – yet purposeful – configuration delivers a look that's playful, casual, and attention-grabbing. The varied hues and texture in this design recall a diversity in tones typically reserved for a collection of Frank Lloyd Wright's greatest hits in modern architecture. As the demand for modernist home exteriors rises, this look keeps the curb value of your home high.
Set the Stage
Capture the earthy allure of this tri-color composite deck with TimberTech PRO Legacy in Mocha, Tigerwood, and Pecan.