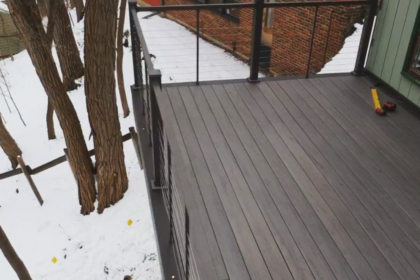 You might be thinking, "building a deck in the winter? That's crazy!" But with the technology of Helical Piles and the expertise of our build team, we put on our thickest winter coats and get to work building a deck that will be ready for entertaining as soon as the snow melts!
Here's how to make it happen.
If you're looking to build a deck, there are several things you should consider before starting construction. First, you'll need to determine what type of deck you want. A wood deck will require more maintenance than a composite deck, but it will last longer. You'll also need to decide whether you want a freestanding deck or one attached to your house.

Start with a Plan.
Before you start building, make sure you've considered the following questions: What size do I want my deck to be? How much space do I have available? Do I want an open or enclosed deck? Is there room for a hot tub? Will I use the deck often?
Choose the Right Material.
If you're going to build a deck, you'll need to choose the right material. You should consider the type of climate where you live, as well as how frequently you plan to use the deck. Composite is a popular choice over wood, with less maintenance and more durability. 

Add Deckside Protection.
To protect your new deck, you'll need a good quality railing system. A simple wooden fence will do, but you might want to invest in a stronger one. Make sure you install the railing before you start using the deck.
Ready to get started? We are! Contact us today for a free estimate.